Cristina Toninelli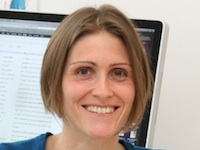 I am a CNRS director at Ceremade , Université Paris Dauphine



Postal address:

Universit&eacute Paris Dauphine
Place du Mar&eacutechal De Lattre De Tassigny


75775 Paris CEDEX 16, FRANCE
Office:

B617, 6&egraveme &eacutetage
e-mail:
toninelli ceremade.dauphine.fr
Research interests

My research activity is at the interface between probability and mathematical statistical mechanics. My favourite topics are:


Interacting particle systems: stochastic models with Glauber and Kawasaki dynamics, kinetically constrained models, plaquette models, mixing times, spectral gap, out of equilibrium dynamics, functional inequalities, hydrodynamic limit, large deviations, porous media equation, tagged particle;


Cellular automata and bootstrap percolation : universality and critical properties


Liquid-glass transitions and jamming transitions : modelization, dynamical heterogeneities and correlation lengths, glassy dynamics, aging;


Coalescence processes : hierarchical coalescence models and applications to statistical mechanics systems;


Randomized algorithms : optimization and group testing problem.



Grants

I am the coordinator of the ERC grant MALIG: "A mathematical approach to the liquid-glass transition: kinetically constrained models, cellular automata and mixed order phase transitions" .




Postdoctoral position for 2019 Applications are invited for a two-year postdoctoral fellowship founded by ERC MALIG, starting in fall 2019.

I am a member of the ANR project "Large Stochastic Dynamical Models in Non-Equilibrium Statistical Physics"



Supervision of students and postdocs:
Oriane Blondel,
PhD student 2010-2013.
Laure Mareche,
PhD student 2016-.
Assaf Shapira,
PhD student 2016-.
Ivailo Hartarsky,
PhD student 2018-.
Giancarlo Croce,
Master student 2015
Aurelia Deshayes,
Post-doctoral fellow 2016-2018.
Erik Slivken,
Post-doctoral fellow 2017-2019.



Teaching :

"Interacting particle systems", master cours 2017 and 2018



Collaborators :

Ludovic Berthier, Lorenzo Bertini, Giulio Biroli, Oriane Blondel, Thierry Bodineau, Nicoletta Cancrini, Alessandra Faggionato, Daniel S. Fisher, Patricia Goncalves, Claudio Landim, Gianni Jona Lasinio, Vivien Lecomte, Fabio Martinelli, Marc Mézard, Robert Morris, Carlo Presillla, Cyril Roberto, Francois Sausset, Roberto Schonman, Mauro Sellitto, Gilles Tarjus, Marco Tarzia, Mathieu Wyart



Organization of conferences :
July 2018, 19th International Congress on Mathematical Physics, Montreal Canada, invited session "Non-Equilibrium Statistical Mechanics"
July 2018: member of the scientific committee CIMPA school "Geometry and scaling of random structures", Buenos Aires
May 2017: organizer of workshop "Universality in bootstrap percolation", IHES Bures-sur- Yvette
October 2014 Percolation and the Glass Transition: Kinetically-Constrained Models, Bootstrap Percolation, Mixed-Order Phase Transitions, and Large Deviations, Tel-Aviv University
July 2014, 37th Conference on Stochastic Processes and their Applications, Buenos Aires, invited session "Constrained Stochastic Dynamics"
January 2011, Inhomogeneous Random Systems, Institut Henri Poincare, session "Kinetically constrained spin models, glasses and coalescence processes"